Cupidone Coffee House Cafe
Cafe
---
Details
Cupidone is a small family-owned coffee shop which is newly opened in Feb 2014. We hand craft our espresso drinks with specialty coffee beans Beaumont Blend roasted fresh and locally by Ristretto Roasters (Portland, OR).
Beaumont Blend Espresso has a full body, low acidity, baker's chocolate, clove and dried cherry note. Robust and straightforward, yet surprisingly complex. Additionally, we offer Bubble Tea, Italian soda, ice cream and pastries.
HOURS
Mon-Fri: 6 AM - 7 PM, Sat: 9 AM-6 PM, Sun: 9 AM -3 PM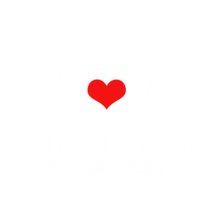 10% senior and student discount!
Free brewed coffee refills while in the shop!
Daily offers on different drinks!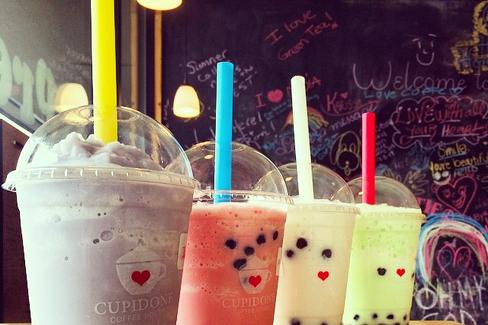 COFFEE, TEA, BUBBLE TEA AND ICE CREAM
Classic Coffee Drinks (Custom order available per request)
MOCHA
Black Pirate
Caramel White
​ Tale of Two Chocolates
Truffle
LATTE
Aloha
​ Crackerjack Caramel
Coconut Almond
Pumpkin Spice
Nutella Espresso
Caramel R.A.F
AMERICANO
CAPPUCCINO (traditional 6oz)
ESPRESSO (double shots)
​ Cafe au Lait
A Shot in the Dark
​ DRIP COFFEE
AFFOGATO
​ *** EXTRAS: gourmet flavors, premium Ghirardelli sauces
organic soy milk/almond milk​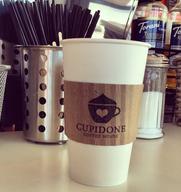 *** EXTRAS: soy milk/almond milk
*** TOPPINGS: you can add to your drinks tapioca pearls,
rainbow jelly, star jelly and popping boba
lychee ​ black tea
mango honey dew
mango pineapple lavender
peach rose
​peach mango taro
pineapple thai
taro matcha green tea
thai tea
watermelon
Bubble Tea & Milk Tea Drinks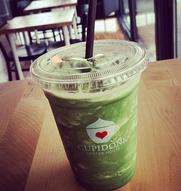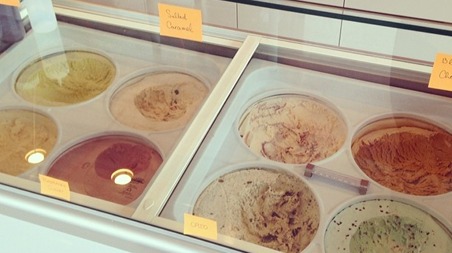 avocado
banana
banana apple
blueberry
​chocolate
coconut
​coconut taro
green apple
honeydew
Pastries
​(options vary dai​ly)
Non-Caffeine Drinks
MATCHA (Japanese Green Tea)
Classic Matcha
Matcha Latte
CHAI
Oregon Chai Latte Tiger Spice Chai
Dirty Chai Latte Elephant Vanilla Chai
Pumpkin Chai Latte Power Chai with Espresso
Nutella Chai Latte​
HOT COCOA
Classic Hot Cocoa
Black/White Hot Cocoa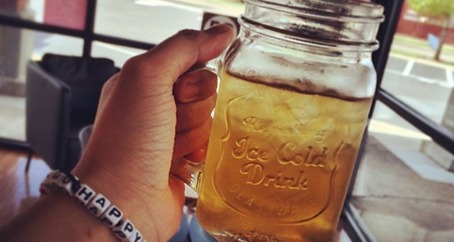 Tea options vary in-store.
Coconut Pineapple
Blueberry Cheesecake
​Maple Nut
Strawberry​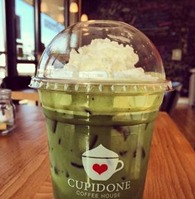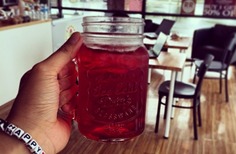 French Vanilla
Green Tea
Chocolate
Cupidone Coffee is located on the corner of NE Fourth Plain Rd and NE Andresen Rd. We are located on the same building with 24Hr Fitness Center.
We offer free wifi here!
3021 NE 72nd Dr Suite 11
Vancouver, WA 98661
Visit us by public transportation:
Route 4, 30, 32, 44
---
Opening Hour
Monday

06:00 AM-19:00 PM

Tuesday

06:00 AM-19:00 PM

Wednesday

06:00 AM-19:00 PM

Thursday

06:00 AM-19:00 PM

Friday

06:00 AM-19:00 PM

Saturday

09:00 AM-18:00 PM

Sunday

09:00 AM-15:00 PM
3021 NE 72nd Dr Suite 11, vancouver, Washington 98661, USA
Location on Map
| | |
| --- | --- |
| Address | 3021 NE 72nd Dr Suite 11, vancouver, Washington 98661, USA |
| Email | CupidoneCoffee\[email protected] |
| Phone | local |
| Website | www.cupidonecoffee.com |
Send Email to business
You must be logged in to submit review.
Recent reviews